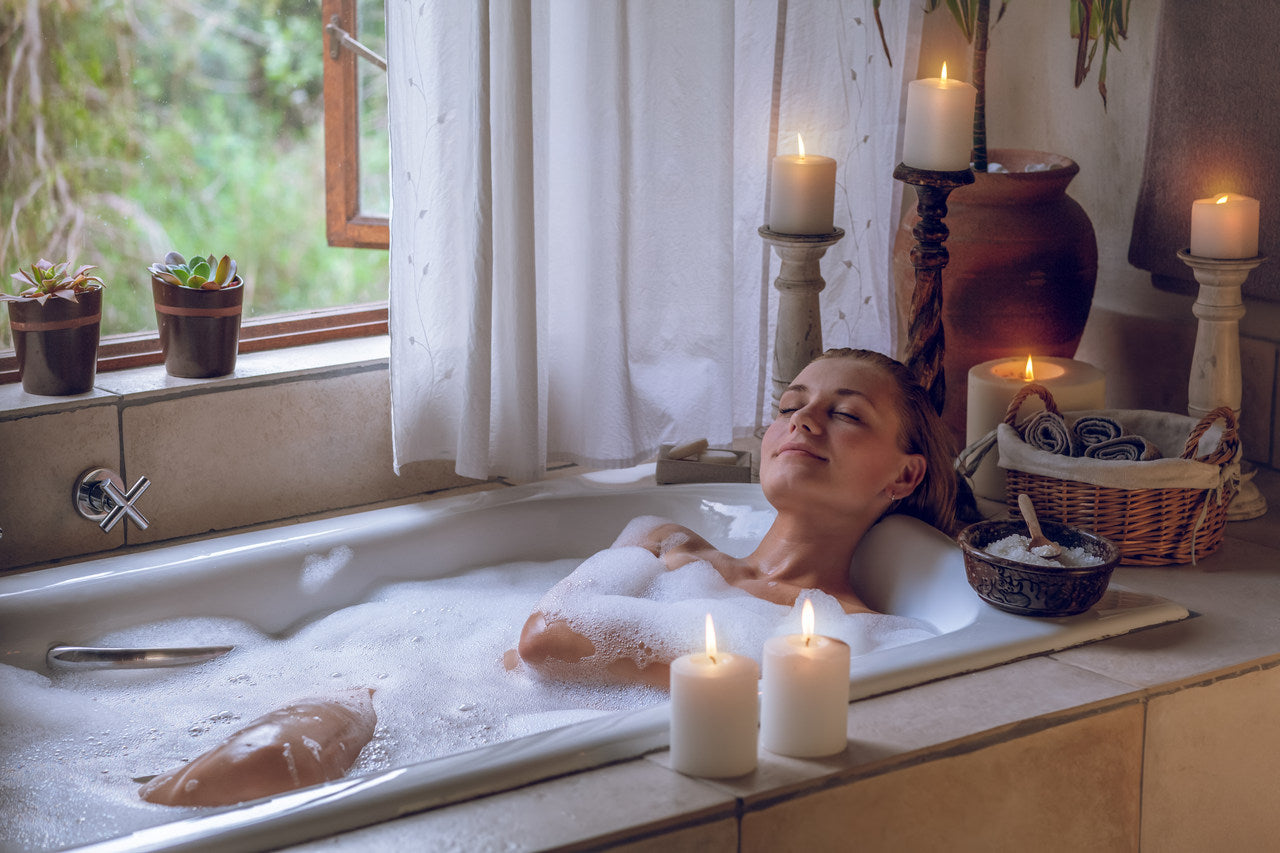 12 Bath Essentials For a Pampering Spa Day at Home
We know exactly which bath essentials that you need for a pampering spa day at home. Don't worry, by the end of this article you'll do too. 
It is extremely important to take some time to yourself, treat your skin, relax your muscles, and unwind a little. Hot/warm water is known to relieve muscle tension, improve blood circulation, and moisturizes the skin. Moreover, it also helps in reducing cold/flu symptoms and removing toxins from the body. 
Yes, but what about spa baths? Regular spa baths are not only recommended by wellness experts but also they can transform your ordinary baths to a whole new luxury level! Sounds impressive, right? Then, let's see what bath essentials you need for a spa day at home.
12 Bath Essentials For A Relaxing Bath & Home Spa
You can find 12 bath essentials that we suggest below.
1. Invest In High-Quality Cotton Towels
Choosing high-quality bath towels is just as significant as having warm water to soak in. So, the first one of the bath essentials you need is a pair of soft bath towels. Make sure your towels are in the bathroom where you can easily reach after bathing.
Additionally, if you have been to a spa, you might have seen how the towels were folded into rolls and organized. You can create a similar spa feeling in your bathroom by folding your towels in the spa method.
Do you know how to make a perfect towel turban? Check out our article, Step By Step: How to Wrap a Towel Around Your Head.
2. Keep A Luxurious Robe At Hand
A soft and comfy bathrobe is another one of the bath essentials that you need to keep at hand for a pampering spa day at home. High-quality bathrobes help the luxurious feeling of a relaxing bath last longer. They also keep your body warm while you dry and moisturize your skin. 
There is a wide range of robes that you can choose from at RobesNmore, the address for premium cotton products. You may use terry cloth robes, waffle robes, kimono robes, cotton robes, satin robes, or body wraps for your DIY spa just as you wish. 
3. Aromatic Candles
Did somebody say ambiance? We can't think of a better way to spice up your bath routine than lighting a couple of aromatic candles. Candles will immediately bring a relaxing and romantic atmosphere to your bathroom.
You can opt for scented candles with fresh scents like sandalwood and lavender. Light the candles around the bathtub and the perfect scent your candles infuse will bring the spa luxury feeling right into your home. 
4. Body Scrubs
What are bath essentials for a perfect spa day at home? Body scrubs certainly make the list! Use body scrubs that you love to take your time and exfoliate your skin in circular motions. This way, you can remove the dirt, excessive oil, and dead skin cells from your skin and get it glowing.
5. Bath Bombs
Bath bombs are almost like the must-have bath essentials when it comes to pampering baths. There are tons of different colored and scented bath bombs available in the market such as bubble bath bombs or aromatherapy bath bombs. 
Just choose the one you like, throw it in the bathtub and enjoy yourself. If you wish, you can also throw in some rose petals, lavender branches, or citrus slices for more fun and aesthetic bathtub look.
6. Bubble Makers
If you like bubbles in the bath, then, bubble makers are among the bath essentials that you need. You can keep your bath water bubbly, cozy and fun with a bubble maker. Just lean back in the tub and relax, it is your time, take it to unwind your body and mind!
7. Epsom Salt or Bath Salts
Epsom salt baths are known to relax muscles and exfoliate the skin so Epsom salts or baths salts may count as bath essentials for a pampering spa day at home. Add 2 cups of Epsom salt to the bathwater and soak your body for at least 15 minutes.
8. Bath Pillows
Is your bathtub too uncomfortable to sit back and relax? Then, a bath pillow is what you need. You can adhere a bath pillow to the sides of the bathtub. Make sure that your bath pillow is antibacterial to prevent bacterial growth and bad odors. 
9. Bathtub Trays
Bathtub trays? Luxury it is! Place a bathtub tray and put a glass of wine or drink on it. You can put some magazines, laptop, fruit, or anything you think you will enjoy doing while your body is soaking and relaxing.
10. Bath Mat
Bath mats are bath essentials that you will need once you are done bathing. To bring the spa effect to your bathroom, place a wooden bath mat near the tub. This way, you will not slip and your bathroom will look more spa-like.
11. Put On Some Relaxing Music
This is up to your preference, but you can put on some relaxing music to listen to while you are soaking in the bathtub. Just close your eyes and loosen up those firm muscles with peaceful music on. Tempting, right?
12. Waterproof Case For Electronic Devices
If you are planning on using your phone or tablet while you are bathing, you should put them in waterproof cases just to be on the safe side. You wouldn't want a moment of a bit of clumsiness ruin your whole spa day, would you? 
And there you go, these are the 12 bath essentials that you need for a spa day at home! Add them to your next bath routine and you will see the difference. Enjoy! For more detailed suggestions on home spa essentials, read our article Checklist: How to Have A SPA Day At Home.