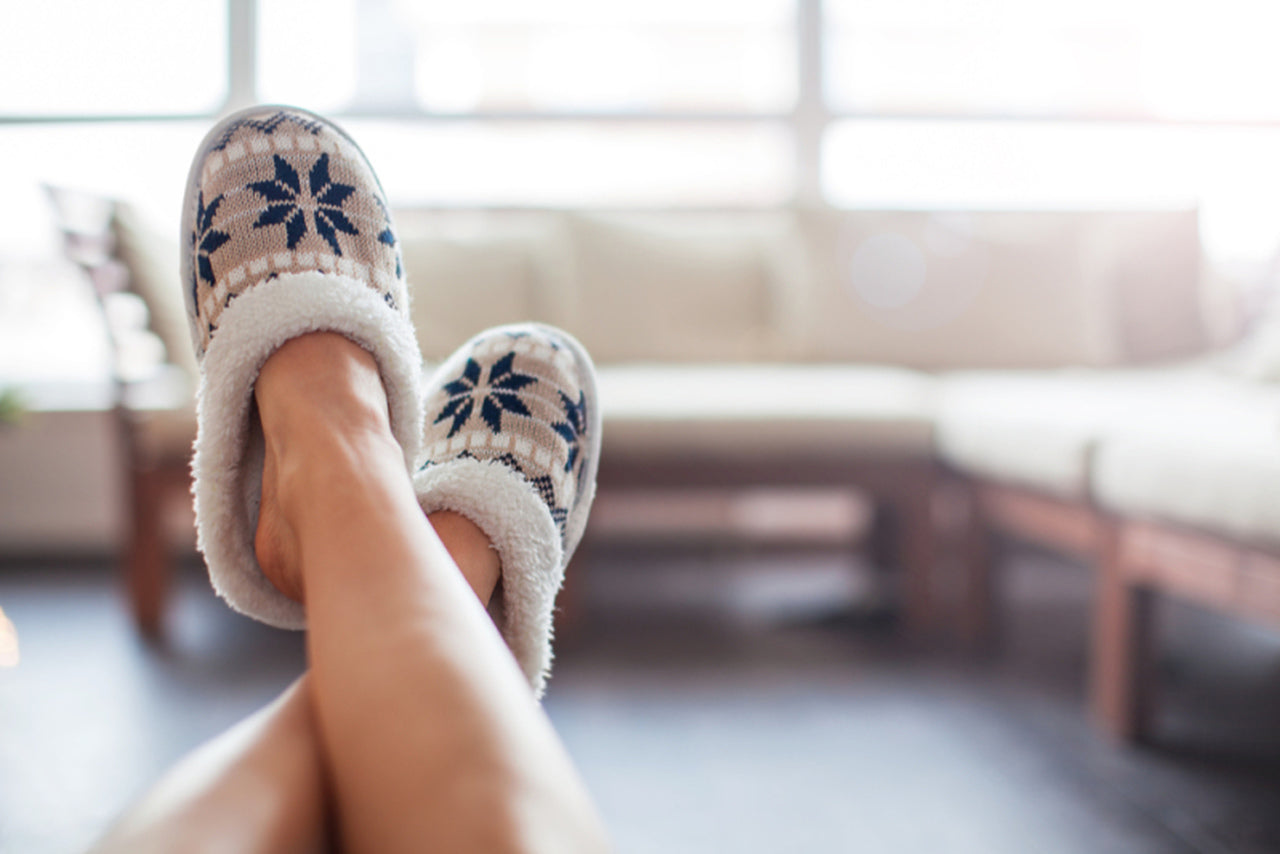 How to Clean Slippers in 3 Ways
There are all types of slippers, from fuzzy slippers, terry cloth slides to plush bootie slippers. Regardless of their style, they keep your feet warm and comfy. However, slippers are often used for a long time without even cleaning.  And that's why quite often the question arises: how to wash slippers?
Believe it or not, even your favorite fuzzy slippers can get dirty, smelly, and old in time. So, you should try to wash them from time to time. But do you know how to clean slippers without damaging them? how to wash slippers with rubber soles? how to wash slippers in washer? Don't worry thanks to our article you will learn everything you need about washing slippers.
Here's a guide to help you learn how to clean slippers in 3 ways to make them as fresh as a daisy!
How to Clean Slippers, Wash & Care 
It is very important to keep your slippers clean in order to ensure the best hygiene in your home and bathroom and to enjoy comfort. The cleaning of slippers, which are skipped quite often, becomes an important element at this point. 
In our article, we will give answers to questions such as how to wash slippers that smell, and how to wash polyester slippers for those who want to clean the slippers that can get quite dirty at some points.
Washing Slippers: Cotton and Synthetic Fabric
You can hand wash or machine wash cotton slippers or slippers made from synthetic fabric. These include terry cloth slides, slippers made from polyester fabrics, and velour slippers. So, how to clean slippers that are from cotton and synthetic material?
As RobesNmore, the address for premium robes and towels at affordable prices, we make sure our velour slippers are high-quality and easy to clean.
Wipe The Soles
One of the most asked questions about slipper cleaning is can you wash slippers with rubber soles? The answer is simple. Yes, you can. Whether your slippers are worn outside or not, their soles pick up dust and dirt in time. Wipe the soles of your slippers with a damp towel to clean and remove dirt, mud, or grit. After that, your slippers will look as if they are brand new.
Wash Slippers in Washing Machine
Cotton is one of the most common materials for slippers. Just like cotton clothes, cotton slippers are also washing machine safe. How to wash slippers in washer? 
Be careful not to use hot water to prevent shrinking. You can set the washing machine to a gentle cycle with warm water. If you plan washing slippers with other clothes, you should use a washing machine bag to protect them.

If you will dry them in the dryer, make sure the heat is not too high. Take the slippers out when there is still a little dampness left so that you can air dry them.
Do you know the benefits of wearing slippers? Check out our article, "What Are Slippers: Usage And Benefits" to learn.
Hand Wash Slippers
Hand washing slippers is another option for those who don't want to risk machine washing slippers. How to hand wash slippers? First of all, fill your sink with warm water by using a stopper and add hand-washing detergent. Then, add your slippers to the warm, soapy water. 
Let them soak in the water for about 30 minutes to make sure the soil and dirt are lifted. Use your fingers to scrub the slippers gently. 
Next, you can thoroughly rinse the slippers until there are no soap bubbles left on them. Press out the excess water and dry them with a towel by rolling them inside the towel.
Once it is done, let your slippers air dry. If you are concerned about the shape of your slippers, you can stuff paper towels inside them.
Have you ever heard of terry cloth? You can learn what it is by reading our article, "A Soft Experience: What Is Terry Cloth?"
Cleaning Leather Slippers
Are you looking for a way how to clean slippers that are leather without damaging them? 
Start cleaning your leather slippers by using a leather soap that is designed specifically for leather products.

Wipe the soil with the leather shoe cleaner. You can use the same product to clean the slippers' insides if they are leather as well. Alternatively, you can use baby wipes to clean the insides.

Shine your leather slippers with a cotton cloth after letting the leather cleaner sit for about 5 minutes. Then you can apply a leather shoe conditioner.
Cleaning Suede Slippers
You shouldn't wash suede slippers in the washing machine or soak them because they would lose their finish. So, how to clean suede slippers?
Start cleaning slippers by wiping them with a towel. You can use a damp towel if your suede slippers are waterproof. 
Use a suede cleaner to spot clean the stains. You can also use a full suede cleaning kit. 
Clean the insides of the suede slippers by sprinkling a heavy layer of baking soda. It will help refresh the interiors. Then, allow it to sit for a couple of hours. Then get rid of the baking soda by vacuuming or brushing it with a suede brush.
Some fabrics require special care when cleaning. Do you know how to clean satin fabric? If not, you can check out our article, "How to Wash & Iron Satin Fabric?"