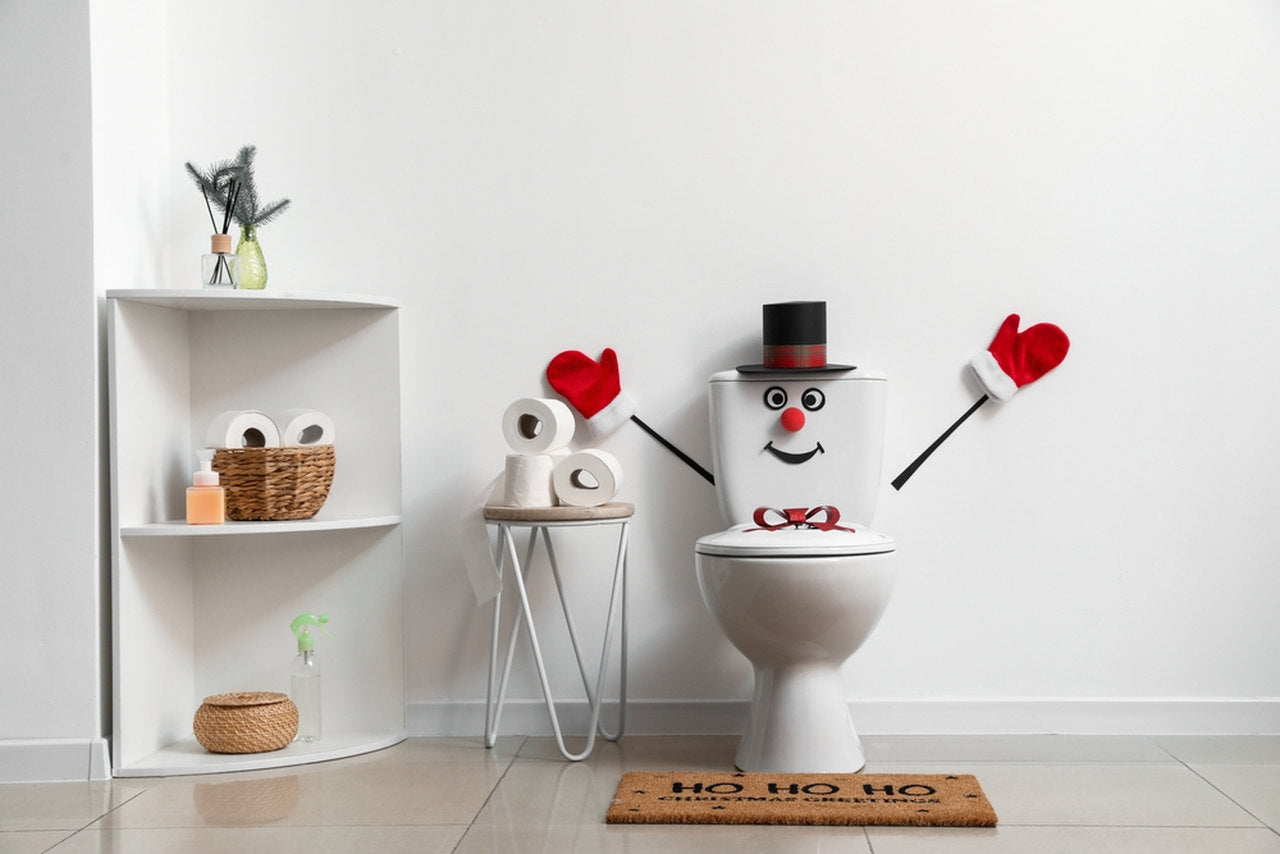 5 Christmas Bathroom Decor Ideas You'll Love
If you've started looking for Christmas bathroom decor ideas, we've officially entered that time of year that makes people of all ages happy. With the arrival of Christmas, preparations begin in almost every household. The decorations you can choose to make these pleasant times you will spend with your family, friends and all your loved ones even happier and more meaningful transform your living spaces into a completely different state.

When it comes to Christmas decorations, two places usually come to mind. The living room, which is the living space, and the kitchen, where precious guests are welcomed. But it should be remembered that in order to experience the Christmas spirit in the best way, every corner of the house should be decorated with the elements of this wonderful time of the year. At this point, the skipped Christmas bathroom decor ideas are an issue that you should definitely have information about.

In this article, which we have prepared as towel experts robesNmore, we will give you all the information you need by explaining step by step how you should make Christmas bathroom decorations. In this way, you will be able to feel the Christmas spirit in every corner of your home with all its warmth.

You can also take a look at our article titled 4 Perfect Christmas Gift Ideas For Kids Who Have Everything to get ideas about gifts, another topic that comes to mind when it comes to Christmas.
1. Know Your Area Well

Just like in all other decoration ideas, the most important factor you should pay attention to in bathroom decoration should be the space you have. Who would want the results of a decoration to be stifling, especially in a frequently used area such as a bathroom? After measuring the size of your bathroom correctly, you can learn exactly how you can get maximum efficiency both visually and usefully.

The most important element of a correct decoration is to achieve the desired style in the space while at the same time having a feeling of spaciousness. Therefore, the bathroom must be measured correctly.
2. Pay Attention to the Light

Another point to consider when it comes to Christmas bathroom decor ideas is the lighting of your bathroom. No, we are not talking about electric lighting. Many bathrooms have access to natural light. Therefore, any object that will block these light sources should not be included in your decoration. It is very important not to hang a towel cabinet or hanger in front of or next to it. Because natural light increases the importance of the decoration elements we will list in our next article.
3. Remember Christmas Comes with Colors

From the very first moment Christmas was celebrated, there are two things that have never changed! Red and white... With the combination of these two colors, which are frequently encountered in daily life, we can directly get the Christmas spirit. When you decorate every part of the house in this way, you will not only provide integrity, but you will also be able to reflect the Christmas spirit.

These colors, which come to life even more with the use of the right light, will make it possible for you to experience the New Year spirit in your bathroom to the fullest! Remember that red and white represent happiness!
4. Decorate Your Mirror

Whoever thinks that mirrors are only for looking at the face is wrong... Because mirrors have a very important place when it comes to the bathroom decoration. You will feel the happiest time of the year every time you look at your mirrors, which you can decorate with patterns suitable for the Christmas spirit.

You can store your care products in front of your mirror in red and white boxes with Christmas decorations, and wrap your frame in the same way. In this way, you can easily change the face of your bathroom in an instant.
5. Don't Forget Your Body

Finally, we come to the most important element of decoration. When listing Christmas bathroom decor ideas, it's impossible to forget the gorgeous robes! Robes are one of the most important parts of the decoration, both giving you happiness with their superior comfort and providing magnificent protection after your personal care, and visually increasing the aesthetic level.

At this point, the robes hanging in your bathroom when you are not using them will make it possible to create a warm environment with their colors and textures. robesNmore allows you to have robes in the color and fabric you want with dozens of different bathrobe options.

Also, thanks to robesNmore, which offers an unmissable opportunity, you can have plush robes with a 10% discount with the arrival of the new year!

We have come to the end of our article where we have listed Christmas bathroom decor ideas. You can take a look at robesNmore robes as complementary elements while making the ideal decoration for your bathroom, and you can choose robes with different fabric options for every size. And don't forget to take a look at the finest towels!