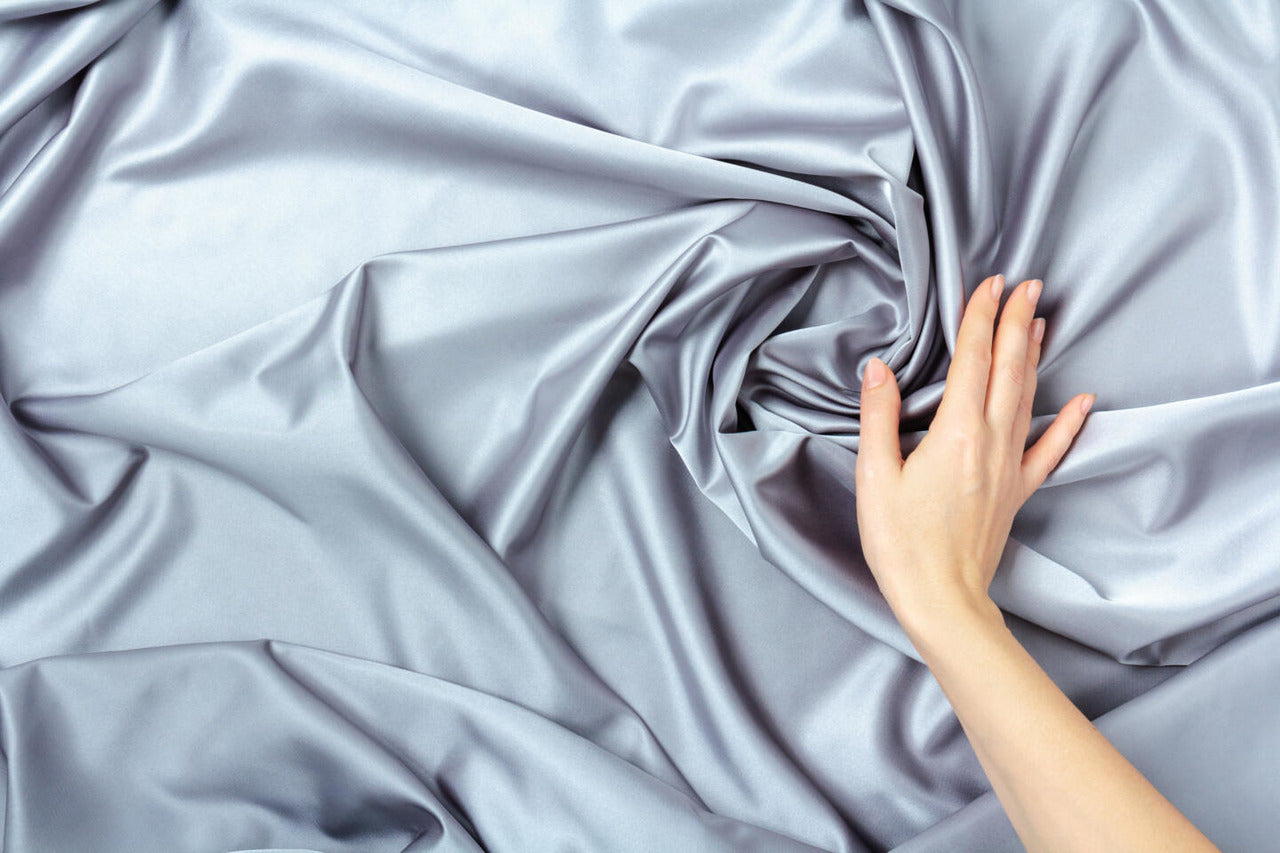 How to Wash & Iron Satin Fabric?
Wondering how to wash satin? Satin is a delicate fabric that makes people prefer it. Being a chic fabric, satin is also a perfect choice for special occasions. For instance, satin robes are one of the awesome bridesmaid gift ideas and used in getting ready for weddings, and so on.
It can be troublesome to wash and iron this elegant fabric sometimes. Luckily, you can find all the tips on how to wash satin and iron it in this article that we, as the towel expert robesNmore, brought you. 
Key Facts 
To maintain satin, protect it from direct sunlight
Always wash satin fabric in cold water
Always use a chemical-free detergent to preserve its quality
Do not squeeze satin after washing it or it can create wrinkles and distort its shape
Keep in mind the key facts above to make your satin product long-lasting. Let's dive in more detail to have a better idea about satin and then proceed with steps on how to wash satin.
Understand Satin 
Referring to a smooth, delicate, and glossy fabric, satin can be woven from different fibers. Satin fabric can be woven from fibers such as nylon, polyester, and silk. It is important to know what fibers were used in the weaving of your satin product to preserve the texture. 
You can see the fibers used in your satin product following the manufacturer's terminology on the care label. Some of the different fibers you may see on the care labels are;
Satin: Containing fibers; silk, nylon, polyester
Canton Satin: Woven in two layers, each containing different fibers
Sateen: Cotton used as the fabric content
Duchesse: Silk and rayon as the fabric content
Do you need to wash or dry clean satin? The best way to know that is by following the manufacturer's recommendations on the care label to learn how to wash satin. You shouldn't wash the product yourself if it says "dry clean only."
How to Wash Satin
Washing Supplies
Laundry detergent (gentle)
Enzyme-based stain remover
Tools You'll Need
A large sink for hand-washing
Mesh delicates bag (optional)
Indoor drying rack (optional)
Iron or clothes steamer
Step #1 Read the Instructions on the Care Label Beforehand
Before attempting satin, you should take the time to read the instructions and cleaning recommendations. If it is stated that you should "dry clean only" then you shouldn't risk harming the fabric by washing it yourself.
Another important thing is that washing satin in the washing machine is not recommended. Hand washing is safer to wash this delicate fabric.
Step #2 Remove the Stains on Satin
Avoid using any kind of bleaching material to remove the stains on satin. It may lead to discolorization. You may use an enzyme-based stain remover.
Step #3 Wash Satin
You may use a washing machine or prefer hand washing based on the delicacy of the fabric and the recommendations on the care label. For either, use a chemical-free laundry detergent that is suitable for gentle washing. 
If you will use a washing machine, set it to the delicate cycle. The water temperature should be cool to maintain satin quality.
If you will hand wash your satin product, you can use a large sink. You should be careful not to squeeze it after washing. Squeezing may cause wrinkles and shrink.
Step #4 Dry Satin
Satin products should be hung on a drying rack or tumbled on the dryer set on low heat. You should remove it from the dryer before it is completely dry and let it fully air dry. Satin may discolor or get damaged by direct sunlight or heat. 
How to Iron Satin
Now that we have covered steps on how to wash satin, it is time to learn how to iron satin gently so that it can look as glossy and smooth as before.
1. Prepare the Iron
First of all, you should prepare the iron setting. Using too high temperatures damages and even burns satin. So, typically the iron temperature setting for satin is between 1-4.
2. Iron the Satin Gently
After placing the satin product on the ironing board, you should move the iron quickly across the fabric to avoid burning it. Using heavy pressure can damage the fabric. So, you should iron with smooth strokes rather than heavy pressure. 

If there are any insistent creases, you may use the steam function of your iron. If you don't have steaming iron, sprinkle water droplets on the satin and then iron.
3. Hang up the Satin
To keep your satin product away from getting wrinkles again, you should hang it up. Following the instructions above on how to wash satin and how to iron satin, you can keep your satin product brand new and good quality for quite a long time.